Laughing Through Life: Kevin Hart's Cinematic Journey And Top 10 Comedy Gems
The comedy legend turns 44 today.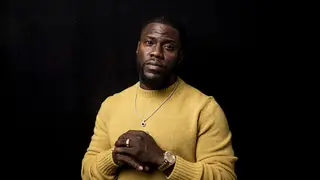 For nearly 20 years, Kevin Hart has been conquering Hollywood. His infectious energy and quick wit propelled him to the A-list. In honor of his 44th birthday, we are take a look at ten of his best films and series that have showcased his comedic genius and endeared him to audiences worldwide.
"Think Like a Man" (2012)

Based on Steve Harvey's best-selling book, this romantic comedy follows a group of friends who turn the tables on their significant others after discovering they have been using Harvey's relationship advice against them. Although his first film credit is 2004, Kevin Hart delivered in this breakout role. The movie also included Taraji P. Henson, Regina Hall, Michael Ealy, Gabrielle Union and more.

"Ride Along" (2014)

 In this action-comedy, Kevin Hart teams up with Ice Cube in a hilarious ride-along as he tries to impress his future brother-in-law, a tough detective. Their misadventures unfold and Hart's comedic timing is flawless.

"Get Hard" (2015)

Joining forces with Will Ferrell, Hart takes on the role of a street-smart hustler who is tasked with preparing Ferrell's character for life in prison. The comedic chemistry between the two leads creates non-stop laughs.

"Central Intelligence" (2016)

In this action-comedy, Hart shares the screen with Dwayne Johnson as they embark on a high-stakes adventure involving spies and secret identities. Hart's comedic flair perfectly complements Johnson's larger-than-life persona, resulting in a hilarious on-screen duo.

"The Upside" (2017)

Showcasing his versatility as an actor, Hart takes on a more dramatic role in this heartwarming film. Playing the role of an ex-convict hired to care for a wealthy quadriplegic, he brings both depth and humor to this character.

"Jumanji: Welcome to the Jungle" (2017)

In this action-packed adventure-comedy, Hart joins an ensemble cast, reuniting with Dwyane Johnson, as they find themselves trapped inside a video game. Hart's portrayal of a timid and awkward character within the game universe provides a constant source of comedic relief.

"Night School" (2018)

Alongside Tiffany Haddish, Hart plays the role of a high school dropout who enrolls in night school to obtain his GED. This comedy tackles the importance of education with Hart's trademark humor, reminding us that it's never too late to chase our dreams.

"The Secret Life of Pets 2" (2019)

Lending his voice to the character of Snowball the rabbit, Hart adds his signature comedic touch to this animated adventure. The movie also included Haddish as Daisy. 

"True Story" (2021)

Kevin Hart and Wesley Snipes kept audiences on edge with True Story, which streamed on Netflix. Hart plays a comedian in a crisis and his brother (Wesley Snipes) is no help. It was a perfect binge-watch during the peak of the pandemic. 

"Fatherhood" (2021)

In this dramedy, Hart takes on the role of a widowed father who must navigate the challenges of single parenthood. The Netflix film also stars Alfre Woodard and Lil Rel Howery.