Monica Celebrates Daughter Laiyah's 10th Birthday With Glamorous Photo Shoot
The singer said her baby girl has given her unconditional love over the past decade.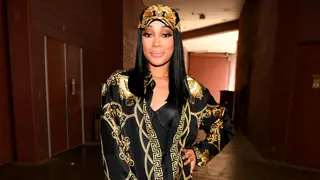 And just like that, Monica's baby girl is 10-years-old.
To ring in her daughter's milestone birthday, the "Angel of Mine" singer penned a sweet tribute to Laiyah on Monday (September 4) via Instagram to highlight her big day, as reported by PEOPLE.  In the post, the doting mom also shared snaps from their epic mother-daughter photoshoot.
The high-fashion duo brought their A-game to the set while looking like a cohesive team dressed in black. Laiyah wore a floor-length tulle gown while her mom rocked a power suit with sheer details. In the snaps, the beautiful twosome serve fierce looks and happy poses against various backdrops.
As a recording artist and Grammy award-winner, Monica knew how to make her words do all the talking.
"HAPPY•BIRTHDAY," she began the post.
"One never truly knows LOVE, until they've experienced YOU….. You've given me a decade of Joy, Compassion , Understanding & Love without Conditions," she added in the caption.
The ATL crooner wrapped up the heartwarming message by concluding, "🖤 May you always see YOU as special & deserving as I do……HAPPY 10th BIRTHDAY LAIYAH."
Just like her mom, Laiyah has famous friends in high places. In the comment section of her mom's post, stars showered the double-digit pre-teen with their love and support.
LaLa Anthony said, "My beautiful girl ❤️", while P-Valley star Brandee Evans wrote, "Omg she's grown up so fast!!!🥹🫶🏾Happy birthday young lady!!!"
Rapper Lil'Mama also dropped a few words for the birthday girl.
"A mother's Twin, Starts Within. Laiyah, you display kindness, love and protection for your siblings just like mommy. You also have a low tolerance for BS. 😂😂😂Keep smiling keep being beautiful. Happy Birthday Girl💖✨."