Tink Samples Aaliyah's 'One in a Million'
The up-and-coming singer and rapper does the classic hit justice.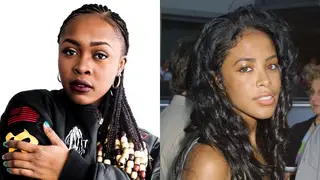 Nowadays, any Aaliyah sample or cover warrants a long bated breath, as using her music is almost a cardinal sin among her army of fans. But, when your song is co-signed by Timbaland, who serves as one gatekeeper of Aaliyah's sound, there really isn't any room for disagreement. Or is there? We'll let you decide.
Newcomer Tink, who has every girl wishing they had "somebody to treat them like somebody," hooked up with Timbo for her new track, "Millions," which samples "One in a Million." 
The song, which features some samples of Aaliyah's classic ballad, adds a twist with Tink's approach to the record with her catchy rap-singing sound.  
Chanting, "There's a million reasons I f*** you," throughout the chorus of the song, the 20-year-old lyricist does an impressive job of almost making you forget she's sampling the late singer.
Of course you'll have to listen to the song yourself, but trust us, with her unique approach to the music and Timbaland in her corner, homage was paid during the making of this song.
BET.com is your #1 source for Black celebrity news, photos, exclusive videos and all the latest in the world of hip hop and R&B music.
Click here to subscribe to our newsletter.
(Photos from left: Krista Schlueter/BET, George De Sota/Getty Images)