Brittney Griner, Phoenix Mercury Partner With Group Advocating For Americans Wrongfully Detained Overseas
The WNBA franchise pledges to use its platform this season to raise awareness after their star center was held for 10 months.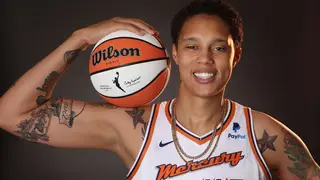 The campaign urges the White House to make every effort to bring the more than 54 detainees home and also to provide resources for detainees' families, according to an April 27 WNBA statement.
"Brittney Griner's wrongful detention educated our organization, fan base and the Valley about the plight of hostages around the world and their families here at home," Mercury President Vince Kozar said. "We learned that, outside personal safety, the biggest fear is being forgotten and we know those currently being held do not automatically have the same public platform or receive the same media attention Brittney's case did."
Kozar vowed to use the franchise's platform throughout the 2023 WNBA season to help bring home the detainees and to support their loved ones. The initiative includes launching a dedicated hub on the Mercury's website to learn more about each individual and how to get involved in the cause.
During the season, the team will incorporate in-game PSAs and social media content to keep the names and stories of those detained top-of-mind. The franchise also plans to host a letter-writing station at home games for fans to draft hand-written notes to the detained individuals.
"When you get those letters, you know you have some really bad days and you get hope. That helped me out a lot to just keep hope alive," Griner said, according to CBS News.
In Griner's case, U.S. diplomats and their Russian counterparts ultimately negotiated a one-for-one prisoner swap for her release, which didn't include ex-Marine Paul Whelan, who is still detained in Russia on alleged espionage charges.
The two-time Olympic gold medalist urged her fans to write letters to Whelan and to support efforts to secure his release.