Will Smith Breaks Silence On Oscars Slap
Chris Rock isn't ready to talk yet, but will get in touch with Will once he is.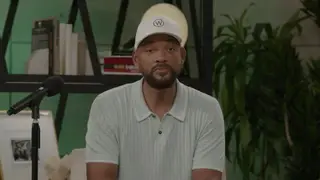 After four months, Will Smith has finally broken his silence on the tense moment that took place on the night of March 27. In a five-minute video posted to his social media channels, the 53-year-old actor updates the public on the "personal work" he's been doing.
He answered questions that have been the elephant in the room, including why he didn't apologize to Rock during his acceptance speech for "Best Actor" in the 2021 film, King Richard.
"I was fogged out at that point. It's all fuzzy."
Smith says he reached out to Rock and "the message that came back is that he's not ready to talk and when he is, he will reach out."
He then apologized to Rock and says his behavior was "unacceptable and I'm here whenever you're ready to talk."
Smith also apologized to Rock's mother and family,  saying he didn't realize how many people would be inevitably affected by that moment.
"I spent the last three months replaying an understanding the nuance and complexity of what happened in that moment. I'm not going to try to unpack all of that right now, but I can say to all of you, there is no part of me that thinks that was the right way to behave in that moment. No part of me that thinks that is the optimal way to handle a feeling of disrespect or insult."
An apology to his wife, Jada Pinkett-Smith, and his family was issued, too, and said that Jada had nothing to do with the incident.
Smith says that the moment was "confusing" and "shocking" but "I am deeply devoted and committed to putting light and love and joy into this world."
He finished with "if you hang on, I promise we'll be able to be friends again."
Watch the full video below: