Chris Rock Finally Addresses Will Smith Oscars Slap
The comedian made a joke about cancel culture at the Only Headliner Allowed comedy tour at Madison Square Garden.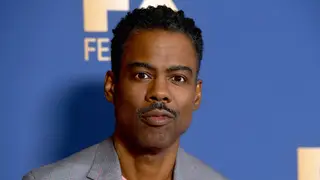 After Chris Rock was slapped by Will Smith in front of the 2022 Oscars audience, the comedian is finally speaking out about the viral and jaw-dropping event.
According to Entertainment Tonight, Rock took the stage at Madison Square Garden on Saturday (July 23) where he co-headlined the Only Headliners Allowed comedy tour with Kevin Hart. During Rock's set, he reportedly "made a joke about Will during a bit about 'cancel culture,' joking that 'anyone who says words hurt has never been punched in the face," a source confirmed.
Controversial comedian Dave Chappelle was also the surprise opener during Saturday's performance.
In case you missed it, just before Rock presented the award for the documentary feature category, Rock made a joke about Smith's wife Jada Pinkett Smith, saying, "Jada, I love you. G.I. Jane 2, can't wait to see it." Rock's joke was regarding Jada's close-shaved head, a possible result of her recent struggles with the condition alopecia.
Smith, meanwhile, has stayed out of the spotlight since his actions at the Oscars and has been banned from all Academy of Motion Picture Arts and Sciences events for the next 10 years.