New York City Subway Shooter Frank James Pleads Guilty To Federal Terrorism Charges
Prosecutors want the judge to hand down a life sentence.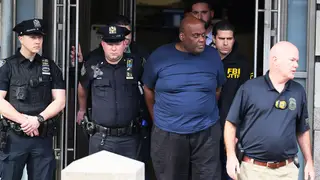 Frank James pleaded guilty Tuesday (Jan. 3) to opening fire on a packed New York City subway train in April – a terrorist act that could put him in prison for the rest of his life.
"While I was on the train, I started shooting a firearm. My intention was to cause serious bodily injury to the people on the train. And although it was not my [intention] to cause death, I was fully aware that a death or deaths could occur as a result of my discharging a firearm in such an enclosed space as a subway car," James told Brooklyn Federal Court Judge William Kuntz, according to The New York Daily News.
He pleaded guilty to an 11-count indictment that includes 10 counts of a terrorist attack — one for each of the 10 people struck in the subway shooting — as well as a single charge of using a firearm while committing a crime.
According to federal prosecutors, James, 63, boarded a subway train in Brooklyn on April 12, put on a gas mask, and ignited two smoke bombs as the train moved with unwitting passengers aboard. As the train pulled into a hub station in the Sunset Park neighborhood, he pulled out a gun and fired 33 shots, hitting ten people.
No one died in the attack. He was unable to fire more shots because his gun jammed. The police arrested James the next day in Manhattan's East Village.
At the court hearing on Tuesday, prosecutors uncovered new details about the attack. James began preparing for the assault in 2017, Assistant U.S. Attorney Sara Winik said, according to The Daily News. That preparation included buying a disguise, smoke bombs and ammunition, as well as performing a trial run on a train.
Prosecutors want a long sentence against James that's tantamount to a life sentence. The Associated Press reported that prosecutors told Kuntz last week that they will ask him to hand down a sentence that exceeds the possible 39-year sentence under federal sentencing guidelines.
James' legal team disagrees with the prosecution's reading of the federal guidelines, arguing that the sentencing range is properly based on aggravated assault and not attempted murder. Under aggravated assault, the sentencing range should be from 16½ to 18 years in prison.
"Mr. James has accepted responsibility for his crimes since he turned himself in to law enforcement. A just sentence in this case will carefully balance the harm he caused with his age, his health and the Bureau of Prisons' notoriously inadequate medical care," his attorneys said in a statement, according to The Daily News.
"Unfortunately, as the government just stated, even a sentence that would vastly exceed Mr. James' natural life is not enough for them. Their requested punishment serves no legitimate sentencing purpose," the statement continued.
Kuntz previously set James' trial for Feb. 27, rejecting the defense's request to change the location outside New York City. In November, the defense argued that James could not get a fair trial in Brooklyn because of biased media coverage and the negative comments of city officials, prompting them to file a motion to relocate the trial, perhaps to Illinois.