UPDATE: Rae Carruth Is Seeking Custody Of His 18-Year-Old Son After Serving Time For Killing The Man's Mother
The former wide receiver is slated to be released from prison after serving 17 years for conspiracy to commit murder.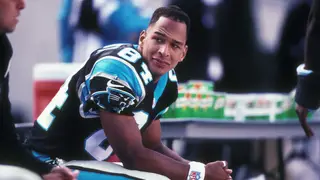 In about eight months, former Carolina Panthers wide receiver Rae Carruth is slated to be released from a minimum security prison after serving 17 years for conspiring to murder his pregnant girlfriend.
On Monday (February 19), WBTV, reported that Carruth had sent a 15-page handwritten letter to Cherica (his ex girlfriend, Chancellor's mother, and the woman he conspired to murder)'s mother, Saundra Adams. He expressed his interest in gaining custody of his son and told the station why.
"I'm apologizing for the loss of her daughter. I'm apologizing for the impairment of my son," he said. "I feel responsible for everything that happened. And I just want her to know that truly I am sorry for everything."
Saundra has been raising Chancellor since his birth and says she has no plans of relinquishing custody of Chancellor.
"I've forgiven Rae already, but to have any type of relationship with him, there does have to be some repentance," she told the Charlotte Observer. "And I think this opens the door. But I can say definitively he's not ever going to have custody of Chancellor."
Adams says she's going to raise Chancellor until her death and after he'll be raised "by someone else who loves him and who knows him."
The name Rae Carruth will always be synonymous for one of the most egregious crimes an athlete has ever been involved in. In 1999, the then-Carolina Panthers wide receiver plotted the murder of his on-and-off girlfriend, Cherica Adams, who was eight months pregnant with his child when she was shot dead by one of his associates because Carruth reportedly didn't want to pay child support.
Carruth, now 43, was found guilty of conspiring to murder Adams and sentenced to nearly 19 years in prison in 2000, with his release slated for October 22, 2018.
Meanwhile, Chancellor Lee Adams (pictured below), the son whom Carruth tried to kill, turns 18. A feature story by the Charlotte Observer points out that Chancellor still suffers from cerebral palsy and permanent brain damage due to his premature, traumatic emergency birth. He has been raised by his grandmother Saundra Adams (pictured below), who lost her only biological child, Cherica, when she was murdered in 1999.
Despite the devastating circumstances, Chancellor Lee Adams and Saundra Adams plan to be there on the day Carruth is released from prison next October.
"My intention is only positive," Saundra Adams told the Charlotte Observer, adding that she plans to write Carruth early next year so that their visit doesn't come as a surprise on the day that he's released. "My intention is not that he will see Chancellor and come out with this great confession: 'Oh, I'm so sorry I did this,' because I don't expect that. I don't expect that he will ever acknowledge his part in my daughter's death. And I'm not looking for that. I don't need that for forgiveness. I don't need that for us to carry on our lives. I simply want him to see his son and see what a fine young man he has grown into. And that he is not just surviving, but that he is indeed thriving."
Chancellor responded by saying, "yeah," with the Charlotte Observer pointing out that he speaks in one- or two-word sentences.
Despite the planned visit, Saundra doesn't trust Carruth at all.
"Forgiveness is freely given, but trust definitely has to be earned," she told the newspaper. "So we're not at the stage where I trust him at all. Rae is not remorseful. He has not asked for forgiveness. He still contends that he was never at that scene. And that's on him. He'll have to answer for that."
BET Sports News — Get the latest news and information about African-Americans in sports, including weekly recaps, celebrity news and photos of your favorite Black athletes.