Done Playing Nice: Ayesha Curry Snaps at Internet Troll for Coming After Her Marriage
Is she warming up her Twitter fingers for next season?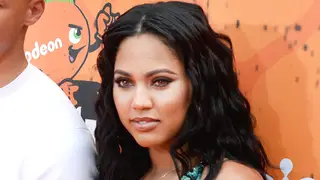 Vacation is over for Ayesha Curry. After a few weeks away from social media to spend time with her family in Hawaii and at Disneyland, the NBA's most notorious WAG is back at it, putting internet trolls on blast.
After a Twitter user called her out for crying about the rude memes that flooded her mentions following her husband Steph Curry's loss in the NBA Finals, Curry clapped back with a few points of her own.
Clearly, she's done playing nice:
Major key indeed. 
Clearly, the world will not leave Ayesha alone, even in the off-season. Good to see she is fully capable of handling herself in the face of haters. 
Watch Ayesha defend the woman who laid a thirst trap for her husband on BET Breaks, above.