Cam Newton Challenges Kevin Hart to Hilarious Bench-Press Contest
And they did it in Christmas sweaters with Ice Cube by their side.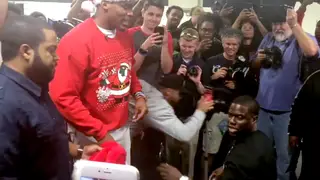 The good times keep on rolling for Cam Newton and the Carolina Panthers.
Cruising to a flawless 13-0 record this season with Newton being considered a front-running MVP candidate, the star quarterback and some of his teammates were joined by Kevin Hart and Ice Cube at Harding High School in North Carolina on Tuesday as they presented Harding with a $7,500 check for a new weight room.
Having a little fun with the situation, Newton challenged Hart to bench press 225 pounds, with the hilarity being captured by the Charlotte Observer.
With both Newton and Hart dressed in Christmas sweaters and Santa hats, the QB set off the jokes, saying that this footage will be added to Ride Along — the 2014 movie co-starring Hart and Cube — as a bonus scene, to which the comedian shrieked, "That's not what I promised, Cube! Cube, do me a favor...hold this Santa Claus hat."

With that, Hart takes the weight bench as Newton leads the room of players and students in chants of "225."
"I need silence," Hart says in the clip. "Message to all little guys. You are only as small as your mind allows you to be. I'm putting up big-boy weight."

With Newton egging him on, letting him know "that's easy work," Hart impressively hoists up the weight three times.
But he wasn't done cracking jokes yet.

"Since I'm in Carolina, I do as the Carolina Panthers do," Hart said, before dabbing just like Newton does on the field.
Good times for a good cause.
BET Sports News — Get the latest news and information about African-Americans in sports, including weekly recaps, celebrity news and photos of your favorite Black athletes.
(Photo: Charlotte Observer via Youtube)