Philadelphia Mayor Scolds Philadelphia Youth Mobs
Michael Nutter expresses his disappointment with teens involved in the random, vicious attacks.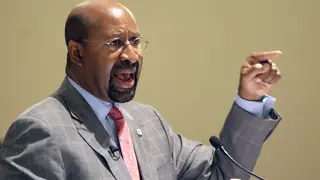 The Mayor of Philadelphia is not happy with how his city's youth are behaving and he's not afraid to scold them, publically.
"You have damaged your race," Mayor Michael A. Nutter said in a speech aimed toward Black youth involved in the recent violent "flash mobs" in the pulpit of Mount Carmel Baptist Church in West Philadelphia on Sunday. In the mobs, random groups of teens have been attacking people on the streets of the city's tourist and fashion shopping districts.
For the past two years, Philadelphia has been the scene of several flash mobs organized by text messages sent by teens. In one instance teens knocked down passers-by and then proceeded to an upscale department store where they assaulted shoppers. In another instance hundreds of teens met and started mayhem in a restaurant district forcing some restaurant owners to close early or lock customers inside for their safety.
"If you walk into somebody's office with your hair uncombed and a pick in the back, and your shoes untied, and your pants half down, tattoos up and down your arms and on your neck, and you wonder why somebody won't hire you? They don't hire you 'cause you look like you're crazy," the mayor angrily said to the congregation about the youth.
Nutter has imposed a tougher curfew restricting teens from being in the streets after 9 p.m. He also announced that he is beefing up police patrols in certain neighborhoods and enlisting volunteers to monitor the streets.
"If you want to be aggressive, we're going to be aggressive," Nutter said.
To share story ideas with Danielle Wright, follow and tweet her at @DaniWrightTV.
(Photo: David Maialetti/Landov)