'Red Table Talk': A Real-Deal Discussion On The Invisibility Of Black Woman
The latest episode features activist Tamika D. Mallory who sheds light on a different kind of epidemic.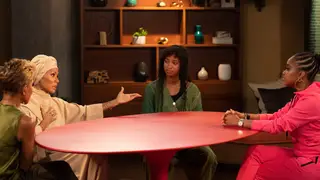 On April 20, news broke of a police shooting of 16-year-old Ma'Kiah Bryant in Columbus, Ohio who called the police for help after getting into a physical altercation with someone that lived in her foster home.
Bryant had a knife, but her aunt Hazel Bryant claims she dropped it before being shot multiple times by an officer. Once more details were released, the public has since debated if the shooting was justified, unaware of the challenges Bryant has had to face while living in the foster care system. 
Just over a year ago in March 2020, Breonna Taylor was fatally shot by Louisville police officers who invaded the home she shared with her boyfriend. For months, the public was unaware of her death until her name began circling around social media under the hashtags #SayHerName and #JusticeForBreonnaTaylor. 
The invisibility that many Black women face is the topic of an intimate discussion on the next episode of the Red Table Talk airing on Thursday, May 13 at 12pm PT/3pm ET on Facebook Watch! 
Sitting at the table with Jada Pinkett-Smith, Willow Smith and Adrienne Banfield-Jones is social justice leader Tamika D. Mallory who speaks about her own experiences with feeling invisible and the challenges of being seen, especially when she was a young mother. Tressie Cottom, a college professor, also recalls her experience of being treated as in "incompetent Black woman" by doctors while pregnant. Dr. Tamika Cross, a physician, shares what happened the time she had a confrontation with a flight attendant that went viral.
During the segment, Pinkett-Smith recalls how the impact of the "angry Black woman" stereotype has led to society ignoring the needs and challenges of Black women as a whole, especially when it comes to healthcare. Cottom explains that she was rushed to the hospital when she was four months pregnant with excessive bleeding and cramping. She says the doctor dismissed her pain saying that spotting was normal for someone "as fat as she was'' and was sent home that same day.  
"Childbirth is when you're most vulnerable. You really are relying on people to see your pain. People's ability to see your pain relies on their ability to see you as human," Cottom says. "The experience from me was a loss that shouldn't have been a loss. Worse than that, it was a loss that no one treats as a loss."
Other guests on the show include Dr. Ramini Durvasula who talks about racial gas-lighting and the mental impact of microaggressions. Dr. Candice Norcott adds factors that contribute to the Black women invisibility epidemic and Mallory's son also makes a guest appearance in the episode. 
For more on the episode, tune-in to Red Table Talk on Facebook Watch on Thursday, May 13 at 12pm PT/3pm ET for this informative new episode.