Iggy Azalea Sets The Record Straight About A Rumored Romance With Tristan Thompson
This is 'very weird fake news,' the rapper says.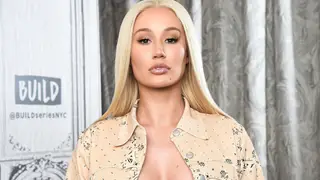 Iggy Azalea quashed rumors circulating on social media about a budding romance with Tristan Thompson. She denied even knowing the NBA star.
The "Black Widow" rapper set the record straight on Sunday (Aug. 22) in a tweet about the "fake news."
"Very weird fake news making the rounds about me dating a man I've literally never met a DAY in my life…. Like…. Y'all are really that bored?!?!" she wrote.
Azalea, 31, has been quick to shut down social media gossip since the birth of her 15-month-old son Onyx Kelly, whom she shares with her ex, Playboi Carti, 24.
According to PEOPLE, this stems from social media users making disrespectful comments about Onyx. In one instance, someone posted rude remarks about Onyx wearing a dinosaur costume in a photo on her Instagram Story.
In July, Azalea announced, "I've decided I won't be posting about onyx or sharing images online anymore. Y'all not about to be out here playing with my baby on my watch, nope!"
So far, Thompson hasn't commented on the Iggy romance rumors, according to E! News.
Last week, however, the Sacramento Kings forward weighed in gossip about him reuniting with Khloé Kardashian, with whom he's co-parenting their daughter True, 3.
"Gossipers are worse than thieves because they attempt to steal another person's dignity, honor, credibility, and reputation which are difficult to restore," he tweeted, according to E! News "So remember this, when your feet slip, you can restore your balance. When your tongue slips, you cannot recover your words. Act accordingly."