2 Chainz Tells Story Of How He Ended Up In Legendary BET Awards 2011 Cypher
The cypher included then-budding artists like Kendrick Lamar, Big K.R.I.T., and B.O.B.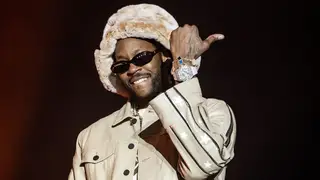 2 Chainz's hip-hop career has spanned nearly two decades, but perhaps one of his biggest jump off points was when he was a participant in the  BET Awards 2011 Cypher.
Part of a trio of cyphers that took place during the broadcasted event, his performance came alongside Reek Da Villain, Busta Rhymes and Ludacris, the later of which called the Atlanta rapper the day of the show to invite him to be a part of it. In a recent Instagram post, Chainz explained what went down that day.
"I remember this day like it was yesterday .. I was riding with my pops and gotta call from @ludacris to do the cypher … THAT DAY … I was like how? he said we bout to hop on jet and go shoot it," he wrote, further elaborating on how he ended up performing. "My pop took me home I grabbed polo jacket , tru religion pants and Louis V shoes , and met them at clear-port ,,, I didn't even know what beat i was rapping to until I landed."
The rapper ended his post with some advice that one can easily find in the story's message: "Moral of story – stay ready so you won't have to get ready."
2 Chainz' BET Awards Cypher was second in order. The night opened with Kendrick Lamar, Big K.R.I.T., Tech N9ne, Machine Gun Kelly and B.O.B. while the third cypher included Eminem, Yelawolf and Slaughterhouse.