Kandi Burruss' Cousin Reportedly Shot During Argument With Employee At Her Restaurant
Chef Melvin Jones shared photos of his injuries on social media.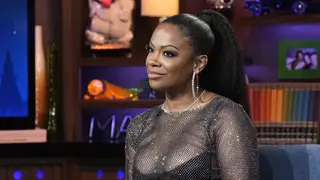 An argument at a restaurant owned by Kandi Burruss reportedly led to a shooting that injured the singer and Real Housewives of Atlanta star's cousin.
According to HotNewHipHop, the incident occurred on Thursday (September 8) at Blaze Steak and Seafood, an eatery owned by Burruss and husband Todd Tucker, after an argument broke out between two employees.
It isn't clear what led to the disagreement, however, it was later reported by WXIA-TV that Chef Melvin Jones, Burruss' cousin, was shot in the arm. The alleged assailant's name, who police say left the scene following the incident, has not been shared. Authorities are still trying to find them.
The restaurant's Instagram page announced that Blaze would be closed on Thursday for staff training.
Chef Melvin also took to social media to share photos of his injuries.
Kandi Burress has not yet released a statement as to what happened as of now.