Safaree Samuels Drops Controversial New Single 'Liar'
The "Love & Hip Hop Atlanta" star and rapper and his estranged wife Erica Mena filed for divorce in May.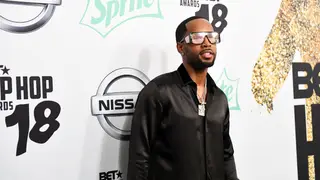 After news broke that Love & Hip Hop couple Safaree Samuels and Erica Mena were filing for divorce, the rapper released his new single "Liar" on Monday (July 26). 
In "Liar" Samuels addresses the trending topics including Mena alleging that her ex was not an attentive father despite pretending to be so on social media.
But the reality star is making it clear that his criticisms from the public are far from his concern:
You say I'm a deadbeat/You type from your little house/I'm sorry my kids' room is big as your real house/Me and my BM not together we get along/My credit score 800/Your s**t about 400 
On Friday (May 21) Mena, 33, filed for divorce from Samuels 39, according to documents from Georgia's Fayette County Superior Court, People reports. Court documents reportedly obtained by Page Six stated that their relationship is "irretrievably broken" with "no hope of reconciliation," according to Mena. 
She is asking for joint legal custody and final decision-making authority, and is requesting physical custody of her daughter Safire on both temporary and permanent bases, Entertainment Tonight reports.