See Will.i.am After Losing 20 Pounds And Going Meat-Free
"You don't need to have decaying flesh in your body."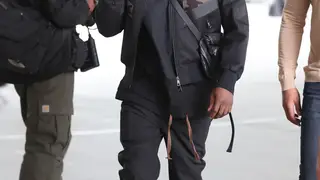 Will.i.am revealed that he lost 20 pounds after going meatless and adjusting his sleeping habits. The 43-year-old rapper and singer weighed in at 210 pounds just a year ago and said lack of sleep and processed foods were to blame.
"I was eating bad, sleeping bad. No regiment," Will.i.am told Arianna Huffington on her Thrive Global podcast with iHeartRadio. "I was going to sleep around 5:00 in the morning … I would argue with people like, 'All I need is like two hours a day.' Like boom a catnap and a catnap and I'm just ready to go. 
"I was creating different types of disorders. And starting with my high blood pressure and my cholesterol … I had acid reflux, nasal drip … When you have so much acid in you that means your body is fighting off inflammation and mucus and that is a toxic environment that leads to other diseases," he said.
After a scary visit to the doctor where he found out he had high blood pressure and cholesterol, he realized he needed to make a change, especially since heart disease and diabetes runs in his family. Enter a plant-based diet of no processed foods and little sugar.
"I switched my regimen, went plant-based and it changed my life. I lost 20 pounds," he said. "My cholesterol came down, my high blood pressure came down. My stress levels came down naturally. I have more energy. My sleep regimen is awesome."
"It changed my life, and I would encourage everybody to have a plant-based regimen," he said. "You don't need the meat, you don't need to have decaying flesh in your body. The more I think about it I was like, 'Ew.' I was just, I had death in me. Decayed flesh and crazy chemicals I can't pronounce. You wouldn't put that s— in your car."
Would you try a plant-based diet like Will.i.am?