La La Anthony On How She's Teaching Her Teenage Son To 'Uplift' Black Women And Celebrate Their Beauty!
The actress wants her son to understand that there is no one definition of beauty.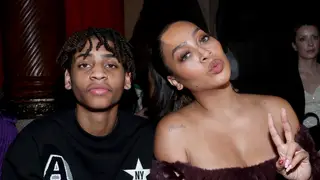 La La Anthony has made it her priority to teach her teenage son the importance of uplifting Black women!
During a recent interview with HelloBeautiful, the adoring mom revealed how she teaches her 15-year-old son Kiyan Anthony to celebrate the beauty of Black women, especially as he heads into his adult years.
"I definitely make sure that [Kiyan] understands there's not one kind of [beauty], there's not one definition," Anthony shared with the magazine. "I always show him beautiful Black women—all different types from all over the world. From all skin tones and all hair textures. I randomly send him a picture of beautiful women I come across."
She continued, "I also make sure that he knows it's important to uplift women and give compliments. I'll come home and I'll be like, 'Hey, you didn't say anything about my outfit today or my hair.' It's not about me. It's because I want him to understand how important that is for women. So when he gets into relationships or when he has female friends, he knows it's important to compliment and make them feel beautiful."
On the topic of beauty, check out La La Anthony on the cover of HelloBeautiful's November issue. Plus read more about her growing hair care brand, Inala.