'They Cloned Tyrone' Netflix Trailer stars John Boyega, Jamie Foxx And Teyonah Parris
'Creed 2' writer Juel Taylor wrote the sci-fi mystery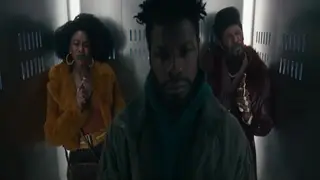 Netflix dropped the trailer for its new sci-fi mystery film They Cloned Tyrone, starring John Boyega, Jamie Foxx and Teyonah Parris.
According to The Verge, the film will release Dec. 3o. The trailer debuted Saturday at Netflix Tudum, a livestreamed fan event now in its second year.
The retro-comedy's trailer is set in an elevator, with Foxx and Parris singing a hilarious rendition of Rose Royce's hit, "I'm Going Down," establishing 1970s nostalgia. Boyega, who plays Tyrone Fontaine, shakes his head at Parris' Yo-yo and Foxx's Slick Charles.
The script is penned by Creed 2 writer Juel Taylor and Tony Rettenmaier, who wrote 2010's The Light Thief.
The synopsis for They Cloned Tyrone:
"A pulpy, sci-fi mystery caper in which an unlikely trio investigates a series of eerie events, alerting them to a nefarious conspiracy lurking directly beneath their hood. Fontaine, a neighborhood drug dealer, is shot dead by rival Isaac and then is very shocked to wake up in his bed the next morning unharmed. He and Slick Charles and Yo-Yo begin looking into the incident, and their search eventually leads them to a vast underground complex where a government – backed lab is performing experiments on the local Black population. Realizing that he is an artificial clone controlled by Nixon, Fontaine initially feels despair, but decides he needs to stand up to these white institutional overlords for the sake of his neighborhood."
Check out the trailer below: