Kamala Harris Announces New Rules To Eliminate Racial Bias In Home Appraisals
Data previously released by the administration provided solid evidence of system racism.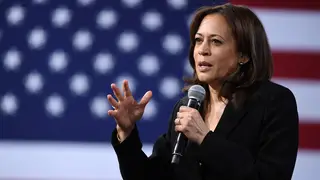 Homeownership is a proven path to building generational wealth. But systemic racism in home valuations unfairly reduces financial returns for Black homeowners.
Vice President Kamala Harris on Thursday (June 1) announced new steps that the Biden administration is developing to uproot racial bias in the home appraisal industry.
"I'm proud to announce we are developing a rule that will require that financial institutions ensure that their appraisal algorithms are not biased, for example, that they do not produce lower valuations for homes owned by people of color," Harris said on a call with reporters. "We are also releasing the guidance to make it easier for consumers to appeal what they suspect to be unbiased valuation."
The New York Times reported that an analysis of that data, compiled between 2013 and 2021, shows that appraisers routinely gave higher values to white homeowners and devalued them if the homeowners are people of color.
Thursday's announcement builds on President Joe Biden's creation two years ago of the Interagency Task Force on Property Appraisal and Valuation Equity, or PAVE, tasked with eliminating racial bias in the home appraisal process.
Next steps include preventing algorithmic bias in the process by establishing quality control standards to help ensure that the computational models used to assess the value of homes are accurate and fair, according to the White House.
Additionally, the administration is empowering consumers to challenge suspected undervaluations, which would include providing federal guidance to financial institutions on how to integrate reconsiderations of value (ROV) policies and controls into their current appraisal processes.
During the press call, Harris noted that only five percent of home appraisers are people of color. The administration plans to promote diversity in the industry and ensure that appraisers who participate in federal programs complete anti-bias training.
The administration will also add 600,000 more home appraisal records to the nearly 48 million records that were previously made public.
"Already we have seen journalists, nonprofits, and academic researchers use this dataset to bring greater attention to the problem of home appraisal bias," Harris said. "Taken together, these are important steps toward a more just and equitable home valuation system."