Black Couple Reaches Settlement After White Friend Receives Higher House Valuation
A $500,000 increase in appraisal was given to the friend; the couple cites discrimination in lawsuit.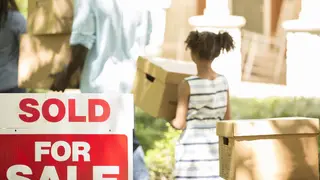 A Marin City, Calif., Black couple settled their fair housing lawsuit against a White licensed real estate company after receiving a house valuation far less than a white friend did, for the same house.
According to PEOPLE, Tenisha Tate-Austin and Paul Austin say they had their home appraised in early 2020. However, they claimed the house was undervalued and appraised $500,000 less than a white friend who pretended to be the homeowner.
Race played a major factor, a press release from the Fair Housing Advocates of Northern California (FHANC) said on March 6.
During the appraisal period, the couple were planning on refinancing the property and made upgrades, including square footage and renovation to a dwelling unit.
To their surprise, the house was only appraised for $995,000.
"The Austins believed that their race and the racial demographics of Marin City played a role in the low estimate of value and requested a second appraisal," FHANC said in a statement.
The couple removed evidence of their racial identity from the home over the course of three weeks and hired a new appraiser to get another valuation.
Their white friend then pretended to be the owner of their home, with the second appraiser valuing the house at $1,482,500, a steep difference of nearly $500,000 from the first appraisal.
The couple filed their fair housing lawsuit in December 2021, claiming discrimination during the appraisal.
FHANC state In the settlement that an undisclosed amount of money was reached for the agreement. The appraiser had to promise to not discriminate in the future and would watch the documentary Our America: Lowballed. The appraiser has also been asked to attend a training session that involves the history of segregation and "real estate-related discrimination in Marin County."
"We're glad that we can put this lawsuit behind us," Paul Austin said in the press release. "Having to experience everything that came with receiving the lowballed appraisal was overwhelming."
Tenisa added, "we missed out on a better interest rate because of the unfair appraisal we received. Having to erase our identity to get a better appraisal was a wrenching experience."