UPDATE: Kelly Price Is Safe, Not Missing, Lawyer Says
The R&B and gospel singer was previously reported missing.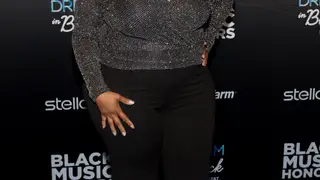 Kelly Price was safe Friday night (Sept. 24) after she was reported missing in the Atlanta area, where she lives, according to her attorney.
Monica Ewing, the gospel singer's lawyer, says the artist is recovering at an undisclosed location, NBC reports. She noted that Price was over COVID-19 but still needed to get up to full strength in order to perform.
Ewing says Price was never ever actually missing, but that she did go to "a quiet place" to recover after recently being discharged from a hospital where she was treated for COVID-19, the news outlet reports. It's unclear who reported her missing, resulting in her name being listed at the National Crime Information Center.
"She's safe," Ewing said, according to NBC. "She's got to rest and start the journey back to health." 
R&B singer Kelly Price has been reported missing.
According to TMZ, the 48-year-old is listed with the National Crime Information Center. It's unclear the date she was last seen but TMZ claims on July 29, Price revealed she was fighting COVID and "was admitted to the hospital about a week later and ended up in the ICU because her condition worsened."
The outlet also reports her children visited her in the hospital several times in August. After three weeks, her children were told Price was discharged, which, according to TMZ "was surprising because she was apparently still not fully healthy."
Kelly's family says they haven't heard from her since being discharged from the hospital. TMZ reports police did a welfare check last week prior to being officially considered missing. An active investigation to find her has been launched.
Many on social media have voiced their concern and provided well wishes for Kelly Price. See some of their reactions below.