Kevin Costner Toasts To Whitney Houston In Speech, Thanks Clive Davis For Being "Her Bodyguard"
"You were a miracle in her life," he said at the 2023 Pre-Grammy Gala.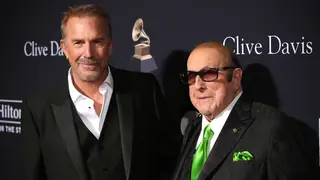 Whitney Houston was the topic of Kevin Costner's speech at Clive Davis' Pre-Grammy Gala over the weekend and shared a heartfelt speech about the life and legacy of the music executive and the impact he has had on those in the industry.
"I want to say something that I've never said to you before," Costner said nearing the end of his speech, according to Variety. "Maybe this isn't the room for it but I don't want to miss the moment. And this is from the heart."
"Neither one of us, in the end, could protect your beloved Whitney," he continued. "But your fingerprints on her life are clean, my friend. You were a miracle in her life."
Costner added, "Thank you for being her bodyguard, Clive, and for every person in this room who you have stood behind and stood for. Everyone in this business has a mom, but not everyone gets a Clive."
Houston and Davis collaborated on the 1992 film "The Bodyguard" as well as the movie's hit song "I Will Always Love You."
"'I Will Always Love You' was number one before the movie ever came out, and thanks to the musical guidance of David Foster and the voice that came out of that little body that night in the studio," Costner shared. "We have a performance of a lifetime. We're all chasing dreams here. We're all crossing paths, and sometimes, we do them through fate and destiny."
Davis 2023 Pre-Grammy Gala event also featured performances that included Lizzo, Lil Wayne, and Latto and a performance of Houston's "The Greatest Love of All" from Jennifer Hudson.