'Whitney Houston: I Wanna Dance With Somebody' Will Transport Viewers On An Emotional Journey
BET.com sat down to chat with stars Naomi Ackie and Nafessa Williams, as well as director Kasi Lemmons.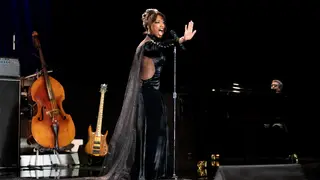 Whitney Houston: I Wanna Dance With Somebody is officially in theaters and for fans of the late legendary singer, the biopic will surely be a treat! 
Taking a deeper look into the relationship and friendship Whitney Houston (played by Naomi Ackie) shared with her best friend Robyn Crawford (played by Nafessa Williams), as well as the highs and lows of her personal life and professional career, the film will put fans on a tear-jerking rollercoaster.  Several recreations of some of Houston's iconic performances will also be featured in the project directed by Kasi Lemmons.
The biopic also stars Ashton Sanders, who plays Bobby Brown, Stanley Tucci as Clive Davis, Tamara Tunie as Cissy Houston, and more. 
BET.com sat down with Ackie, Williams and Lemmons to get a better glimpse into how they each brought the dynamic and complex story to light. 
Read the conversation below and don't forget to head to theaters to see Whitney Houston: I Wanna Dance With Somebody now!
BET.com: As the star of the film, Naomi, what made the biopic so special to you? Kasi, what made directing the Whitney Houston biopic I Wanna Dance With Somebody so special to you?
Naomi Ackie: I think about the impact that Whitney had on my life growing up and what her presence on my screens meant to me as a young Black girl. I'm so grateful. Hopefully, this film brings a part of her back and definitely in her music, she's so present in her songs and reminds us why we loved her so much.
Kasi Lemmons: I think it had to do with just Whitney being herself and just being an enormous fan like so many of us in the world and feeling like a part of her rise to fame, we kinda felt like we were a part of her journey. I wrote two scripts for Whitney, I knew her personally. I first knew her as an icon and watched their rise from the outside and then I got to know her as a woman where I could feel her energy in person.  Knowing her and also admiring her was what made the project so special to me.
BET.com: Naomi, what impact did she have on you growing up?
Naomi: One of my favorite films is Cinderella and my dad taped it on VCR and I would watch it religiously. My first image of Whitney was of her as the Fairy Godmother. That turned into my love of musicals, which then turned into my love of acting, which brings me here. She is responsible for a lot of the inspiration I had when I was very young and started to fall in love with theater and storytelling.
BET.com: Kasi, what was the process like when it came to scene selection, storytelling, and what parts of her life to leave in/leave out?
Kasi: I'm usually character driven in my approach to directing but also themes really help. The theme of home was very important to the writer of the film Anthony McCarten and when I came onto the project what was important to me was ultimately she found home in front of the audience, so how do we continue to hone that theme that drives how we make these choices. The other theme was love, it was about Whitney's love for Robyn and that friendship, her love for her mother and her father and those complicated relationships; her love for Bobby and Bobbi Kristina; and her love for Clive Davis and that friendship.
BET.com: Nafessa, you play Robyn Crawford, in I Wanna Dance With Somebody, why do you think it was important to lean into the relationship and friendship of Robyn and Whitney?
Nafessa Williams: It was one of the closest relationships that she had. It was important to explore that as well as the full scope of their relationship and them being in love with each other. It was a beautiful love story they shared and it was time to tell it. It's a huge part of Whitney's life, if we are going to tell her story and celebrate her life, Robyn is a huge part of it. It was necessary.
BET.com: How did you go about preparing for the role, what was the process like?
Nafessa: There was not a lot for me to draw from in her and Whitney's teenage years and early 20s. But her book was my saving grace, the book that she wrote, it was like Robyn was telling me everything that I needed to know about her. It was so divine.
BET.com: If you could say anything to the late Whitney Houston, what would it be?
Nafessa: She did so well in the circumstances that she was given and under the time that she was living in and with the pressure to be who she was. She did it to the best of her ability and she shared her talent with us. I would just say job "Well done!"
Editor's note: This interview has been edited and condensed for clarity.