EXCLUSIVE: Evelyn Braxton Reveals Her Secret To Cooking Soul Food That Everyone Loves—Even Celebs!
The fabulous mother-of-six and star of 'Braxton Family Values' spoke to BET.com about her new cookbook, family traditions, and more.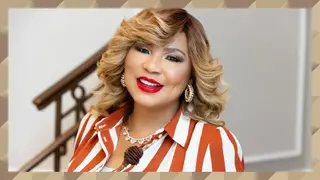 Evelyn Braxton has plenty to be thankful for this year: health, family, and the release of her new recipe book Cooking with Ms. E: A Book of Recipes and Family Memoirs ($59.95). Excited about the publication of her book and the upcoming holidays, the mother-of-six spoke to BET Lifestyle about authoring her first book, what she's most thankful for this year, and why cooking for the family is so important. Get into our exclusive conversation below!
"It's not just a cookbook. With every recipe, there's a story," Ms. Evelyn tells BET.com about her book filled with recipes and pivotal life stories. "It means a lot to me. I talk about my mom, I talk about my dad, I talk about my grandchildren, my children, my sisters, and so on and so forth."
The star of WEtv's Braxton Family Values went on to explain that she let the Lord guide her in choosing the stories that belonged in the memoir that took almost 10-years to perfect. "I think the stories that are in there are the stories that should be in there."
On the topic of family, Evelyn candidly revealed to us that she learned how to throw down in the kitchen and the power of family meals from her mom and her Grandma Sophie. "For my family, food is life," she explains about how sitting around the kitchen table can help mend family wounds. "Food can bring the family together. It's like therapy and freedom with every bite. You realize, wait a minute, they didn't mean to say that and wait a minute, they didn't mean to do that. Food is love. It is empowerment. It is togetherness. It is family."
So, what could you expect if you were fortunate enough to be offered a seat at her table during the holidays? The matriarch insists come ready for a "dynamic meal" and a royal spread surrounded by luxe décor.
"If I know what you like, then that's what I will fix from the book. I love—my daughter Tamar [Braxton] and my family in general— loves my mustard chicken. You will never know that it is mustard chicken, not unless I tell you. The aroma is totally different. It is incredible," she cheerfully shares.
When it comes to the holiday cheer, she adds, "I love having my children around, and I love setting the table. For Thanksgiving, [I love] putting the turkey in the middle of the table with the candles, nice plates laid out, glasses, and silverware. [It's just] a beautiful time together."
When we asked Ms. E which of her children she believes inherited her cooking gene the most, she quickly responded, "Now, I can't touch that." She went on to add playful and humorous TikTok charm by singing, "Oh, no. Oh no. Oh no, no, no, no."
As for her secret to making soul food, she happily reveals, "When I'm cooking, I hum a lot. My mom did that. And so it seemed as though it soothes me, it soothes my spirit, it soothes my mind."
Hence the terms, soul food. You know the vibe. So does Snoop Dogg, Da Brat, Babyface, and other celebrities who adore her cuisine. *wink*
** Editor's Note: This story/interview has been edited and condensed for clarity.