Chris Brown Says His Meet And Greets Are 'Inspiring' Other Artists To Care About Their Fans
Social media was set ablaze with interesting poses fans captured and shared when meeting the R&B artist.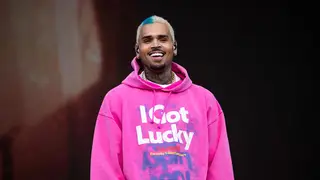 Chris Brown has been making social media headlines as of late for his interesting meet and greets with his fans after his concerts. But some people have made mention of the high prices surrounding the photo opportunities, which can cost as much as $1,000.
The singer took to his social media page to share how meeting with his fans is beginning to inspire other artists to set up meet and greets with their fans.
"I'm happy that my meet and greets are starting to inspire artists to actually give a f*** about their fans," the singer wrote in his Instagram story.
"I didn't event the wheel or meet and greets but I damn sure set the tone," he finished before signing "Team Breezy" at the end.
Megan Thee Stallion had her own meet and greet set up with her fans to promote her new album Traumazine and had folks in all smiles.