Big Boi Of Outkast Reveals Details In Near Death Experience, Including How He Escaped
The MC got wise real quick.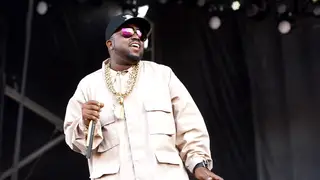 It seems MCs are now starting to subscribe to revealing young truths about themselves.
Jay-Z may have pioneered this recent level of candor that high level MCs have committed to with his 4:44 project. This week, during an interview with GQ Style, Andre 3000 gave insight into his foray with drugs (not heavy ones) and his short break from the limelight. Within this article, the MC also gave major props to his partner in rap Big Boi, expressing, "Big Boi can rap better than me — I always said that." Later, writer Will Welch assists in dispelling a notion that most outsiders may have thought of the duo — that Big Boi was the gangster one and Andre was the more zen of the two. Turns out that this is false.

During the feature, Andre confirms, "He [Big Boi] always knew the right decisions. He got into a real relationship really early. Right before our second album, he had a kid, and he and the girl stayed together, and they're married now. I did the opposite. I'm all over the place." 3 Stacks drives the point home, adding, "Big Boi is smart as f**k."

Earlier this week during an exclusive interview with BET.com, Big Boi unearthed candid details about his almost near death experience, how he managed to get out alive and the actions he took moving forward to remain safe. Further proof that Big Boi indeed is much more thoughtful than fans may have guessed.

Sometime after the hype of Outkast's debut album Southernplayalisticadillacmuzik Big Boi was involved in a shooting that nearly took he and his aunt's life. The MC explained, "I called myself wanting to still stay in the hood…I had just got a Lexus GS300. I noticed the car behind me, like a Buick Regal with like four thug n****s in it…The car goes round me real fast…Before we could get out of the car, they just started shooting at the car with me and my aunt."


The experience caused the MC to re-evaluate his living situation given he and Andre's success. "I left that hood s**t right there," Big Boi candidly and wisely admitted in the interview.

To see the full story where Big Boi shares his near death experience, watch the final episode of the Once Upon A Time In Hip-Hop series above.