Lizzo Reveals She's 'In Love' With Her Boyfriend Myke Wright!
Her BAE even has a special nickname for her.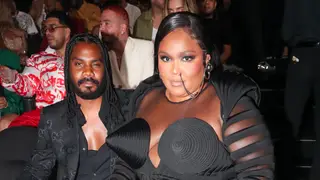 Lizzo is "in love" with her boyfriend Myke Wright! The singer shared her feelings during a recent interview with Audacy Check In.
"I am in love," Lizzo explained to the host about her romantic relationship, according to People.com. "He has his own name for me; he calls me Melly. He's creative."
Lizzo, whose real name is Melissa Viviane Jefferson, confirmed she was in a relationship during a candid interview with Andy Cohen in April. At the time, she didn't reveal her boyfriend's identity.
Fast-forward to June 4, the lovebirds proudly made their red carpet debut at the highly-anticipated Watch Out for the Big Grrrls event. 
We are happy to hear that things are going great with the couple! We wish them all the best on their life journey together.