Angela Bassett Says Laurence Fishburne Stood Up For Her During Tina Turner Movie
Bassett tells her tale from the set of "What's Love Got to Do With It" to Variety.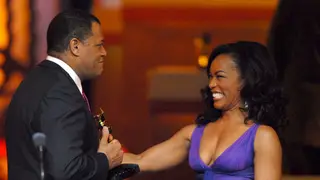 Golden Globe-winning actress Angela Bassett recently sat down with Variety for the 30th anniversary of What's Love Got to Do With It, a biopic about the life of "Queen of Rock 'n Roll" legend Tina Turner.
Bassett, known for her roles in iconic Black films like How Stella Got Her Groove Back and Black Panther, detailed what it was like playing the powerhouse 30 years ago in 1993. She was tasked to share Turner's life as a megastar through the film and depict her complicated, abusive relationship with her then-husband Ike Turner.
Bassett's co-star, Laurence Fishburne, played the infamous, short-fused Ike Turner. She addressed what it was like to work with him, highlighting his ability to captivate a room. "He was strong, he was respectful. He could bring order and he had discipline. When things got out of hand, as they did, he could bring some stoppage and clarity to the moment," she commented.
However, Bassett explained her struggle to film the very raw and real sexual abuse scenes, yet how Fishburne was able to advocate for her genuinely.
Unwilling to do these tough scenes repeatedly but fearful of explaining her concerns as a new actor in the industry, she found comfort in Fishburne to express her concerns. "So Laurence asked me, 'How many times you want to do this?' And I looked at him, he took my hand and I said, 'Four or five.' And then he told the director, like, 'Hey man, we're just going to do this four times. So let's make sure we get the cameras right and we're going to keep them outside of the studio.' "
She commented on the relief of having an authoritative figure stand up for her as a female actress. "It ended up being what I thought was a beautiful juxtaposition between that violent act and the tranquility of fish floating by unaware — a metaphor for something appearing like one thing on the outside, but, behind the scenes, another story being told," she said.
And despite these sore spots in the film's creation, Bassett still embraces the message of the movie and Turner's legacy. "It's a story of a mature woman, a passionate individual who lost everything and still managed to survive — and not just survive, but thrive," said Basset. "[Turner] showed you that anything is possible, no matter where you are, what you look like, where you came from or what you started with."