Georgia Walmart Santa Arrested After His Missing Children Were Found Buried In His Yard
In 2016 Elwyn Crocker Jr. disappeared shortly after his 14th birthday, and earlier this year Mary Crocker also went missing after turning 14.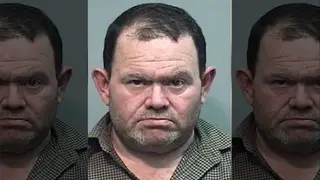 A Georgia man who, up until recently, worked as a seasonal Santa Claus at Walmart was arrested, along with several others, after authorities found the bodies of his two missing children buried in his backyard.
Elwyn Crocker Sr., 50, was arrested after sheriffs' deputies conducted a welfare check at his home to check on his 14-year-old daughter, Mary Crocker. According to Effingham County Sheriff Jimmy McDuffie, Elwyn took deputies to his yard where Mary's body was buried after some questioning, reported the Atlanta Journal-Constitution.
At the house, deputies also uncovered the body of Mary's brother, Elwyn Crocker Jr. Police received a tip that Mary hadn't been seen since October. Crocker Jr. apparently disappeared in November 2016.
Neither of the children, who were both 14 years old when they disappeared, were reported missing, McDuffie said.
Effingham County Coroner David Exley said the cause and manner of death on the children are pending more tests, including toxicological reports.
Deputies also arrested Crocker's wife and the children's stepmother, Candice Crocker, 33, mother, Kim Wright, 50, and Wright's boyfriend, Roy Anthony Prater, 55.
All four suspects are charged with concealing the death of another and cruelty to children in the first degree, McDuffie said.
"I've been doing this 41 years and ... I almost broke down in tears," McDuffie said at a news conference. "It's that bad. I cannot understand how you do children like this. It's horrible."
Until recently, Elwyn Crocker Sr., who had his 50th birthday in jail on Christmas Day, had served as a Santa Claus at a Walmart in nearby Rincon, Georgia. 
Police said a third child with special needs was also found at Crocker's house and was taken into protective custody.
The Crocker children had both been students in the Effingham County School System until transferring to a home school program.
Neighbors said they often saw Mary doing yard work.
"Other kids said at school they could tell stuff was wrong with her hands. They were red," neighbor Gary Bennett told WTOC. "That was from being out in the yard, out there most of the time working. …"
Authorities said investigators are still trying to track down Mary and Elwyn Jr.'s biological mother.