#OnTheVerge: Real Boston Richey Is Bringing The Hip-Hop World To Tallahassee
The Florida native's latest project, 'Welcome to Bubba Land', results from focus and doing things on his own terms.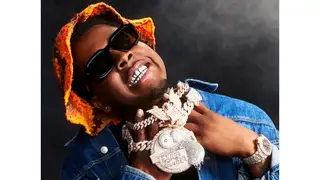 When rap fans think of Florida hip-hop, typically, it's the southern portion of the state that their mind instantly goes to. Through so many eras, Miami has given us 2 Live Crew before Trick Daddy and Trina, then Rick Ross, DJ Khaled, and Kodak Black, among many others. But northern parts of the state are also starting to make a big splash.
Back in March, we brought you the #OnTheVerge story of Taleban Dooda, who hails from Tampa and does so proudly. His distinctive ability and crazy story piqued the interest of his immediate Gulf Coast following and beyond. Now, we're going a little further north to glimpse Real Boston's Richey's journey, which is reaching an apex now.
Born in Tallahassee, the 26-year-old rapper is dead set on putting on for his city – which many either know off-hand as the Sunshine State's capital and the home of the Florida State Seminoles. The "On Site" rapper has already achieved the coveted title of being part of the 2023 XXL Freshman Class, but he's still trying to get his story out to the masses.
For Richey, growing up in Tallahassee meant that making it takes more grit and determination than other, more traditional bastions of hip-hop talent. "[It] got me grounded in like my swag and how I operate and my ambition," RBR explained during a recent interview with BET. "I feel like coming from Tallahassee you got to work 10 times harder than any other city, so it's just like one of those things like man we've just had to learn to work hard and really learn how to be ambitious for the things you wanted."
On his latest release, Welcome To Bubba Land, Richey relays his journey from relative obscurity to being one of hip-hop's hottest artists out at the moment. He said he was very locked in and focused on it when hitting the studio.
"I really spent eight months in the studio, just like I dedicated my whole life to the studio, like no hanging out, no doing nothing. I'll probably go to a studio six o'clock in the afternoon until about eight/nine in the morning," he says. "What you got that day is really how I was feeling."
Real Boston Richey began making national buzz in late 2021 by releasing songs like "Big YIC" and projects like 2022's Public Housing and this year's Public Housing 2. He's also attained major cosigns from artists like Future and Lil Durk, featured on standout singles "Bullseye 2" and "Keep Dissing 2," respectively.
In putting together September's Welcome To Bubba Land, Richey went featureless. He says the main difference between his latest drop and the mixtapes that built his buzz is his attention to detail and riding solo throughout the entire work.
"I feel like with this tape, I really put my all into it, and the certain situations I had my back against the wall. That became my way of venting," he explains. "I feel like with Public Housing and Public Housing 2 I had everyone around me when I was doing it. When I did Bubba Man, I was able to really lock in with nobody around, So many nights it was just me and the engineer and I was able to create a whole new sound and I was able to dedicate my whole life to just making music for a period of time."
While Future may be Richey's main inspiration as an artist, he notes that Kodak Black showed him big things are possible. Collaborating with the Fort Lauderdale rapper on 2022's "Navy Seals," he describes how Black's rise was huge during his come up.
"It's like I already knew him because we share the same story – you're from Florida, I'm from Florida, so everything you talked about I 100 percent feel," he says. "It just hit different seeing him at such a young age to grow to where he is now, so me being able to get into the music and him embracing me like family so it's just different. Seeing him go from a local into one of the biggest artists in the world, it just hit different."
As Real Boston Richey continues his ascension in the hip-hop game, it's the affirmations he's placed on himself, mixed with the solace of focus he believes will take him far.
"I got an ambition behind it. I got the power and the consistency," he explains. "Everything I need to have behind me I got it because I know I can make the music. I just know the music changed my life. Music is my life now, nothing is more important than making music. I got that dedication that I need to have."