'Tyler Perry's Sistas' Season Six Returns This May
BET's number-one show returns for its most explosive season.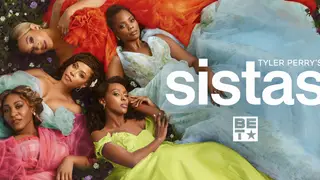 Round up the watch party because  BET's number one show, Tyler Perry's Sistas, from filmmaker and show creator Tyler Perry, is returning for its sixth season on May 31st at 9/8c, and the explosive trailer is already here.
According to the sneak preview, this may be the wildest season yet. While Andi continues to be the voice of reason to her friends, the same can't be said about her relationship with Gary. Sabrina's out of jail but not out of the law's eyes just yet, and Fatima is helping Zac with his own legal issues trying to establish visitation rules with the mother of his child.
Meanwhile, Danni has begun spiraling but is unsure if she'll be able to recover, and Karen's problem only seems to have just gotten started.
Tyler Perry's Sistas stars an amazing cast of rising Black talent including KJ Smith, Ebony Obsidian, Mignon Von, Novi Brown, Crystal Renee Hayslett, Devale Ellis, and more.