Drake Gives Fan $50,000 After Being Dumped by Girlfriend
The fan had a sign at the rapper's show explaining everything.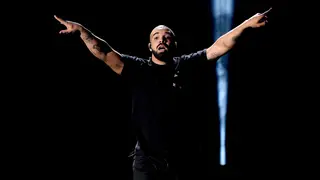 Drake has been taking care of some of his fans during his It's All A Blur tour. Things were no different during his Miami stop.
While on stage at the Kaseya Center Friday (Sept. 29), the Toronto rapper spotted a sign from a fan that revealed they recently lost their romantic partner.
"Usually I do something nice for a lady, like give away a bag or some s**t like that, but my bro right here he said, 'I spent all my savings, buying tickets for me and my ex. But honestly, nevermind, it's really her loss,'" Drake said as he read the sign.
"So she ain't come with you tonight?" Drake asked the fan, who answered, "No."
Drake then told the crowd: "What the f**k is wrong with her? And you in here just icy with the gold chain and the sunglasses on?"
"Hold on, that's a little aggressive. But you know what? She's gonna feel real f****d up 'cause I'ma give you fifty bands so you can flex on her. That's how we doing it tonight, big dog. It's your night tonight. And I won't say it like y'all said it but f**k that young lady."
It was the latest nice gesture from Drizzy for attendees of his tour: Early last week, he promised a trip to Turks and Caicos to a couple that claimed to have canceled their honeymoon just to attend his Atlanta concert.