Gunna Displays "Free Jeffery" Visuals During First Concert Following Incarceration
Young Thug is in jail awaiting trial in the YSL RICO case.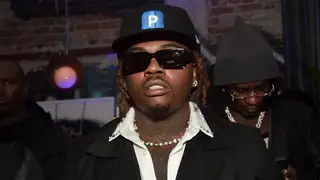 During his first post-jail concert, Gunna lit up social media on Saturday (September 9) while performing at the Barclays Center in Brooklyn.
While performing, the Atlanta rapper called for his labelmate Young Thug to be freed by featuring visuals reading "Free Jeffery."
Gunna was one of the defendants in the RICO case Thugger is currently awaiting trial. He was arrested and charged with several others as part of a 56-count indictment case in May 2022.
The Atlanta native entered an Alford plea after being charged with conspiracy to violate the RICO Act.
During Saturday's concert, Gunna performed a bunch of his latest album A Gift & a Curse, including "Fukumean."