Da Brat And Wife Jesseca Dupart Open Up About Their IVF Journey
The couple shares an emotional exchange about how difficult the process has been for them.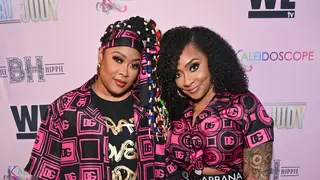 Da Brat and her wife, Jessica "Judy" Dupart, went on the Tamron Hall Show to open up about their road to motherhood and the bumps along the way.
"We haven't spoken about it much on social media because we have had some ups and some downs on our journey — some complications, but we are still in the process," Dupart shares to the host.
The lovely couple jumped the broom last year in February and wants to conceive their first child together through In vitro fertilization (IVF). IVF is a medical procedure where an egg and a sperm cell are placed in a test tube to use later in creating a child.
The duo unveiled how the difficulty of the process resulted in Dupart being hospitalized.
"I was hospitalized with blood clots," Dupart explains. Although they've faced adversity, the couple isn't giving up on the chance of creating a family together. "We want a baby together," says Dupart.
With heartfelt passion, the entrepreneur explains how she believes her wife is a "very caring person" and continues to speak about how she longs to give Da Brat an experience in parenthood. "She is the most nurturing person I've ever met in my whole entire life. So, I just think that that would be great, and anything that I'm able to give her in this lifetime I will."
To lighten the mood, Da Brat went on to explain the various amounts of trips to the doctors she participated in while they worked for pregnancy, "I have been to the doctor more than I ever have in my whole life," she said. Goodness. How many paps smears a woman got to get?"
We wish the happy couple the best on their journey! Watch the full interview here!