Bishop Eddie Long Named a King at His Atlanta Church
Controversial Atlanta Bishop Eddie Long is named a king at his mega-church in Atlanta.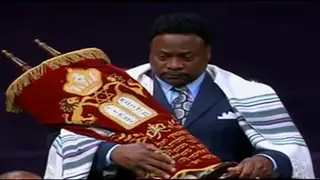 Bishop Eddie Long, the embattled pastor of the New Birth Missionary Baptist Church in Atlanta, was the subject of a ceremony at his church where he was proclaimed to be a king.
The event last Sunday was presided over by Ralph Messer, a self-described rabbi and bible teacher who was the visiting speaker. Messer presented Jewish scrolls that he said were more than 300 years ago, unfurling them around Long, to thunderous applause from the congregation.
"He's now been given the constitution of God as a king," Messer said, presenting the scroll to Long. "He is now [raised] up from a commoner to a kingship." At that point, Long, seated in a chair, was raised by four man who walked around the pulpit area of the mega-church.
"He's a king," Messer said. "He God-blessed him. He's a humble man. But in him is kingship. In him is royalty."
Long recently returned to preaching at the church after a leave of absence. Two months ago, Long said he was leaving his position as senior pastor of the church, following his wife's announcement that she was filing for divorce.
Long was the subject of highly publicized allegations that he sexually abused several teenaged members of the church over a number of years. Long settled the sexual misconduct case with four men for $15 million.
BET National News - Keep up-to-date with breaking news stories from around the nation, including headlines from the hip hop and entertainment world.

(Photo: via simone56 video)