BET Study: Black Moviegoers Don't Watch Just Black Films
According to a BET Networks report on average, more than 80 percent of the movies African-Americans attend do not feature predominantly Black casts.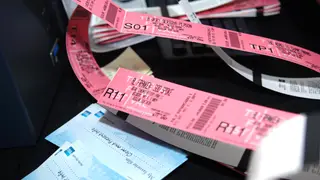 For decades the status quo logic has been that minority audiences—and Black audiences in particular—are only willing to watch films and television with predominantly minority casts. For that reason, most movie studios refused to expend much time and money promoting mainstream movies with all-white casts to the Black community. Why would they, the logic went, when Blacks wouldn't go see the picture anyway? But a new study from BET Networks calls into question the validity of that mindset, and it should cause every white media company to sit up and take notice.
According to a BET Networks report unveiled today, REEL FACTS: A Movie Goer Consumption Study, on average more than 80 percent of the movies African-Americans attend do not feature predominantly Black casts.
"The findings in REEL Facts prove what we've known all along, which is contrary to what many studios and marketers think: African-Americans are a valuable patron of different genres of film and see the platform of television as an important resource in making a decision in this category," said Louis Carr, president of advertising at BET Networks. "While African-Americans seek content that reflects their lives, the movies consumed are not limited to one type of storyline."
According to REEL Facts, Black audiences first pay attention to a film's genre, while other considerations—like the cast's race—are secondary or tertiary. In order, Blacks like comedies, action films, and romance stories the most.
While this should guide film companies' marketing decisions no matter what, the extra carrot in the front of the horse is the Black audience's buying power: $6.3 billion, the vast majority of which doesn't go to Tyler Perry films or Chris Rock documentaries.
I know it's a surprise to a lot of people, but Black people like the same stuff white people like. It's time to stop treating us like an alien species and start treating us like your average hungry consumer.
According to the study, the top five key characteristics of African-American moviegoers are:
1. Extreme Movie Buffs—African-Americans have no problem making that trek to the movies, accounting for 195 million trips to the movie theaters annually. On average, African-Americans make frequent visits to the movies.  
2. High Engagement and Receptivity—African-Americans see TV as the most influential medium to capture their attentions. The top three movie info resources valued highly by REEL Facts respondents are TV commercials (65 percent), in-theater movie trailers (55 percent) and family/friend recommendations (54 percent).
3. Repeat Viewers—62 percent of Black moviegoers admit to seeing movies they like multiple times, accounting for an additional $513 million in additional revenue to movie studio coffers.
4. Movie Goers Have "Platinum Shine"—On average, African-Americans are the most avid movie patrons, going to the movies more than two times per month and a minimum of 28 times a year.
5. Digital Techies—African-Americans are digitally inclined and consume heavy amounts of all types of media:  67 percent own desktop/laptop computers; 62 percent are heavy online users (11-plus hours weekly); 64 percent are gaming or music video enthusiasts; and 37 percent are heavy TV/DVR viewers.
(Photo: Brad Barket/Getty Images)