Flo Rida's Baby's Mother Takes Him to Court for Allegedly Refusing to Help His Sick Child
The singer also hasn't acknowledged being this child's father.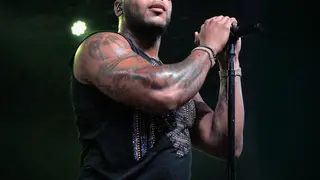 Flo Rida is being sued in New York for not providing child support for his 7-month-old son, Zohar Paxton.
The singer's baby mama, Alexis Adams, says in documents obtained by TMZ, that she began relations with Rida, real name Tramar Lacel Dillard, in December 2015, which continued into mid-January 2016. She claims her son was then born in September.
It's reported that the child has hydrocephalus, water on the brain, and that Adams is struggling to cover the medical expenses for his treatment.
Flo Rida, according to the docs, has yet to acknowledge being the baby's father, even though a paternity test taken in December 2016 showed a 99.99 percent likelihood that he is the child's father. Adams is asking the court to grant her child support.
No word yet publicly from Flo Rida about this latest development.