Really, Girl? Roseanne Barr Slams Valerie Jarrett's Appearance Again Following Racist Tweet
Let it go!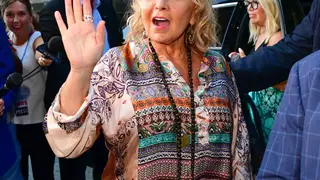 Roseanne Barr seems to have an obsessive fervor for speaking on her shortcomings as the canceled actress recently did another interview addressing her racist tweets.
This time, however, while weakly apologizing for her words, she managed to show her true intentions, once more, by throwing another jab at former President Obama adviser Valerie Jarrett. 
After delivering a slew of "I'm sorry you feel..." introductions to her rambling and cringeworthy statements of "apology," the proven racist retreated to her now signature bully-like demeanor and attacked Jarrett's physical appearance.
"If she's watching, I'm so sorry that you thought I was racist and that you thought my tweet was racist, because it wasn't. It was political," she told Sean Hannity of Fox News. "I'm sorry for the misunderstanding that caused my ill-worded tweet. And, you know, I'm sorry that you feel harmed and hurt. I never meant that, and for that I apologize. I never meant to hurt anybody or say anything about an entire race of people, which I think 30 years of my work can attest to."
Convinced that she was finished delivering her statement, Hannity proceeded to ask his next question, but was interrupted by Barr who felt the need to unnecessarily comment on Jarrett's hair.
"Plus, I'd tell her she's got to get a new haircut. Seriously," she interjected.
Elsewhere in the interview, the comedienne stressed that she was on Ambien and blood pressure medication at the time she sent the infamous tweet that sent her career into a downward spiral.
Needless to say, the Trump-themed conversation that Hannity and Barr had in the minutes that followed was also quite interesting and, frankly, bothersome.
Take a look at the clip, below, courtesy of TMZ: