Kim Kardashian Says She Gained Double-Digit Pounds In The Past Year
The 39-year-old reality star admits to "falling off" her routine.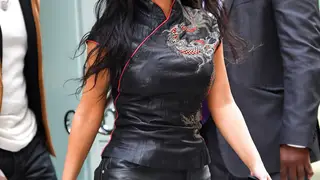 Kim Kardashian West is getting ready to end the new year with a bang by hitting the gym and creating a few exercise goals. 
Recognizing that she may have fallen off her regular routine, the social media beauty mogul took to her Instagram Stories to share her evening exercise routine with her trainer, Melissa Alcantara, on Saturday evening. 
"So we're doing a night workout before my dinner, which I never do — with this one — but I figured we have to get into it at some point," Kardashian West said in her video. "And yeah, I mean, sometimes we fall off and sometimes you really gotta get it together, and this is one of my fallen-off times where I am, I think, 18 lbs. up from what I was about a year ago, a year and a half ago."
She added, "To feel good, I just want to get it like, a really good goal weight, and so that means working out at all costs," she said. "It's my eating. I work out but it's like my eating. But Melissa and I have a major goal for by the time I'm 40."
Alcantara affirmed that Mrs. West would definitely reach her goal, "You're going to be 39 going on 21."
The next day, the reality star was back in the gym Sunday morning to show her 150 million Instagram followers that she was taking her exercise routine seriously. "A morning workout after a night workout is the best," she captioned the next video.
She also gave us a glimpse of her workout shoe game. The 39-year-old mother of four, wore a pair of black and gray Yeezy's, while taking on the StairMaster machine to show us that she means serious business.