SMDH: Kodak Black Strikes Again by Comparing 'Dark Skin' and 'Light Skin' Women
Shouldn't he be over this by now?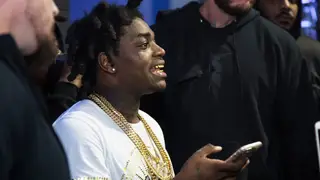 Kodak Black doesn't seem to understand the minefield he insists on continually traipsing through with his publicly relayed taste for "light skin" women.
Earlier this week, the Florida rapper told his Instagram followers that he doesn't like Black girls and prefers women of a lighter complexion. Then he tried to explain himself after receiving backlash on the subject and tripped over some more dynamite in the process by writing on IG, "I Love Black African American Women Its Just Not My Forte To Deal With A 'DARKSKIN Woman."
Now, Kodak's trying to right all his wrongs on the subject by further explaining himself, and, uh, this time it didn't work either.
While at a basketball game, KB was asked about the subject again and he again said he doesn't prefer women who are his skin complexion or darker, insinuating that "dark skin" women aren't beautiful and perpetuating the same hurtful stereotypes that have been used to demonize the look and confidence of African-Americans for centuries.
"If [a man] can say he like skinny women, if he prefers skinny women more than a chubby or heavy-set woman, he can say that and nobody will get mad at him," he said. "I can say that I don't like women with my complexion, I like light skin women, I want you to be lighter than me. I love African-American women, but I don't like my skin complexion."
Then Kodak said something really dumb…
"We too gutter. Black people, my complexion, we too gutter," he said. "Light skin women, they're more sensitive. [Dark skin women], they too tough. Light skin women, we can break 'em down more easy."
Ugh. He really needs to stop trying to explain himself. This is getting ugly for him. Anyway, check out the short interview segment below.