Usher to Release New Song in Honey Nut Cheerios Boxes
Starting today, the singer's "Clueless" track will be a prize in select packages of the cereal.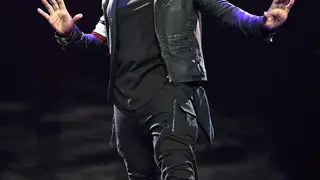 With the surprise release of Beyoncé's latest album and the mass iTunes distribution of U2's last project, today's artists are forced to create new and innovative ways to put out their music. Following this trend, Usher has decided to team up with cereal giant Honey Nut Cheerios to release a new song in a very unexpected format.
According to Billboard, starting today, a new track from the "OMG" crooner will be the prize found at the bottom of select Honey Nut Cheerios cereal boxes purchased at Walmart stores across the U.S. The song, titled "Clueless," will be available for download in specially-marked boxes.
The latest "old school" strategy follows a commercial released in August that sees Usher dancing along with the Honey Nut Cheerios mascott, Buzz The Bee, to his Nicki Minaj-assisted track "She Came To Give It To You."
BET.com is your #1 source for Black celebrity news, photos, exclusive videos and all the latest in the world of hip hop and R&B music.
(Photo: Andrew H. Walker/Getty Images)