#OnTheVerge: Alemeda Intentionally Creates The Music She Wants, And It's Paying Off Big Time
The Ethiopian-born singer has been making a name for herself in alternative rock and pop worlds.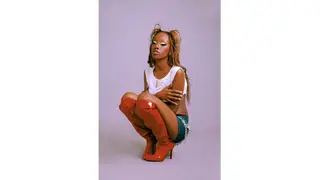 Alemeda has seen a lot in life, so much so that she can't be put into a box.
The East African-born singer has always worked self-expression and empowerment into her music directly from childhood. Spending a significant time growing up in her native Ethiopia, she experienced a lot – both the hardships of witnessing a nation develop and also some of the rich values from her family and community.
The 23-year-old also spent her latter childhood years in Arizona after she moved from Ethiopia. It was an opportunity to see some of the cultural contrasts between the two countries, which her mother intentionally placed on her.
"[My mom's] biggest fear of coming to America was, 'Oh my God, my kids are gonna be too American, and they're gonna eat junk food and watch TV all day,'" she described during a recent interview with BET. "So in her mind, she's like, 'If I take them back and let them live there and live the life I lived they will have like the same kind of mentality on life, and being exposed to more.'"
After honing the attributes of maturity and confidence that her native land impressed upon her, Alemeda got some of her first musical ingenuity from activities she was doing stateside. Ideas about some of the early songs she wrote came from her diary, while the inspiration to sing them came primarily from Disney's High School Musical.
"I always knew the moment I watched it, I was like, Oh yeah, I'm trying to sing, but it wasn't necessarily [me trying to] be an artist and write my own music," she explains. "The songs are so fire. I was like, 'Who wrote this tracklist, this is crazy!?' It really inspired my singing aspect."
Moving into the early years of her musical career, Alemeda wanted to establish that she wouldn't follow the mold of a typical artist. In 2021, she released her debut single, "Gonna Bleach My Eyebrows," which gained her much attention, accumulating over 8 million streams. But even with that song, Alemeda says it will probably be the only drum and bass track she'll release in favor of the more pop and alternative rock angle she's taken over the past year.
"I very much enjoyed doing alternative and indie way more than the rest," she explains, noting that she made 20 to 30 songs from each genre when she began recording. "I have Afrobeat songs, I have a of couple country songs. When you stick to one thing it's very limiting. I felt like I was only doing a certain genre because people wanted me to or like that's what people expect a Black woman to do."
Over the past year-and-a-half, Alemeda has steadily released singles (and videos for them), which showcases her versatility. Her summer 2022 hit "Post Nut Clarity," which has since garnered over 2 million hits, relays tales of how sex has provided her perspective and encouraged her to level up. The song is based on a true story that many of her male and female fans can relate to.
From there, she's released "Ur So Full of Yourself," an anthem that pokes at someone's inflated ego, and "First Love Song" – a July dropped single that describes the first time she fell in love and the heartbreak of getting over the breakup resulting from it.
Alemeda is gearing up to release her debut project, an EP she says will hopefully drop within the next six months. Regardless of whatever genre of music that curries her favor, the music will always come from Alemeda's heart. She's also ready for everyone to hear what she's been cooking.
"I've been working on this [for a] whole year and I've been in sessions the whole year," she says. "I've come to a group of songs that I feel like are a mixture of country and indie rock, and it's very much done and I'm just ready to put it out. Honestly, I think I just need to start dropping as much music as possible right now."