Girl, What: Is This 'Love & Hip Hop' Newbie Seriously Claiming To Be More Famous Than Cardi B?
She came bearing "receipts."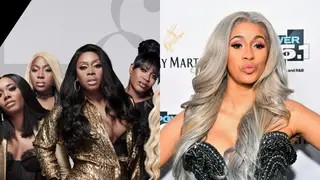 Love & Hip Hop newbie Anais has a lot to say about people who compare her to former Love & Hip Hop star-turned-rap sensation Cardi B.
When a commenter asked, "Is she a new Cardi B" on Instagram, Anais clapped back
"I've been way famous before her that's 1 and became famous on Instagram for being me before her 2 and no I'm not worry [sic] about my blessings by adopting others behaviors."
Clearing up what separates her from Cardi B she added, "I sing she raps she one day saw her self next to lil Kim and Remmy [sic] I see myself one day next to Beyoncé and Celine Dion no babes different paths here now hood it's hood."
In Anais' defense, she has been in the limelight for sometime now. Back in 2005, she won the Puerto Rican reality competition Objectivo Fama and she was nominated for the Best Female Pop Vocal Album at the 2006 Latin Grammy Awards.