'Today' Co-Host Sheinelle Jones and Husband Uche Ojeh Celebrate 16th Wedding Anniversary
The couple met in college and had an eight-year long-distance relationship before tying the knot.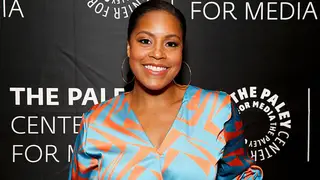 Sheinelle Jones just reached a major milestone.
During Monday's (September 4) live broadcast on Labor Day, while filling in for Hoda Kotb and Savannah Guthrie, the Today co-host revealed she and her husband, Uche Ojeh, celebrated 16 years of marriage over the weekend, as reported by Hello! Magazine. She opened up about this endearing moment while sharing the desk with Tom Llamas.
Following the start of the show, Llamas gave a sweet nod to Jones on the wonderful news. "Hey Sheinelle, I want to say happy anniversary. How many years?" he said.
"16 years," she shared while smiling that left Llamas with only one word to sum up his admiration. "Wow," he replied.
Jones could barely contain her excitement. "16 years and we're still going!" she added while blushing at the camera.
The award-winning journalist also toasted her 16 years of wedded bliss on Instagram in a post on Saturday (September 3) featuring a collection of memories that date back to the couple's wedding day in 2007.
The doting couple's love journey is like a storybook, and they continue to reach new heights as husband and wife.
"Happy Anniversary Uche. ❤️ - It's amazing how life works sometimes … I was born in Philly … moved away as a baby … visited my father every summer after my parents separated … but I never imagined I'd end up having some of the best years of my life and career there, getting married in Philly, and ultimately having 3 kids at the same hospital where I was born," she wrote in the caption. "❤️ We've created beautiful memories…. here's to a lifetime more. 16 years! 🥂."
Jones met the New York City based consultant while attending Northwestern University and they endured a long-distance relationship for eight years before tying the knot. Together they share three children: two sons, Kayin and Uche, and daughter Clara.