New York Republican Congressman George Santos Denies Being A Drag Queen, Despite Photos
The latest lie comes after he also claimed he was part Black.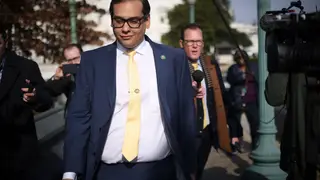 The saga of New York Republican Congressman George Santos continues.
Earlier this month, he was sworn in to represent New York's 3rd congressional district, despite endless stories detailing jaw-dropping mistruths. Now a new story has it that he was once a drag queen in Brazil who went by the name Kitara Ravache. A 58-year-old Brazilian drag performer who is called Eula Rochard told Reuters that they first met Santos in 2005 at a gay pride parade in Niteroi, which is a Rio de Janeiro suburb.
Rochard claimed Santos – who he only knew as Anthony – had a goal to be Miss Gay Rio de Janeiro. Rochard said he was "poor" in 2005 but by 2008 "he came back to Niteroi with a lot of money." Rochard alleges Santos competed but lost.
"He's changed a lot, but he was always a liar. He was always such a dreamer," Rochard said to Reuters. See the alleged photos below of Santos in drag.
Santos has denied the accusations, writing on Twitter, "The most recent obsession from the media claiming that I am a drag Queen or 'performed' as a drag Queen is categorically false. The media continues to make outrageous claims about my life while I am working to deliver results. I will not be distracted nor fazed by this."
Other alleged lies also include a July 2020 tweet, in which Santos claimed to be part Black. Additionally, Santos wrote on a resume that he graduated from NYU and Baruch College but has no degree from either institution and according to reports, he never even attended. Santos boasted that he worked for Citigroup and Goldman Sachs, which was not true. He repeatedly said he was Jewish and his grandparents fled the Holocaust. Santos attempted to clarify his position by telling Fox News he was "Jew-ish." He alleged his mother died due to an illness from being in the Twin Towers during the 9/11 terrorist attacks, but his mother was living in Brazil at the time.
Santos also said he had been openly gay for 10 years but divorced his wife in 2019. Santos' ex-boyfriend, Pedro Vilarva, said Santos repeatedly told lies. The pair broke up once Vilarva discovered Santos was wanted by Brazilian police for allegedly writing bad checks in 2008. Brazilian authorities recently stated they will revive the fraud case against Santos and claimed they stopped the investigation because they were unable to find him for almost ten years.  There are also questions about how he went from making $55,000 a year in 2020 to between $3.5 million and $11.5 million in 2021 and 2022.
Despite being caught in multiple lies and numerous calls to resign, House Speaker Kevin McCarthy recently appointed Santos to two committees, the House Small Business Committee and House Science, Space and Technology Committee.