Beyoncé's Secret Snapchat Strikes Again
You can't just keep doing this to us, Bey...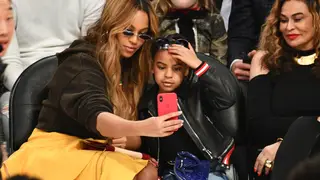 Beyonce's top-secret SnapChat remains a mystery since March 2017 when the global megastar and the eldest Carter family heiress, Blue Ivy, debuted adorable animal-filtered photos sure to speak adoration to the BeyHiver in you.
Fans searched high and low for Bey's account, but failed to discover where she's keeping all those cutesy photos and videos in the world of the Snap. The Lemonade songstress has returned in 2018 with yet another teaser that she's probably watching your stories, but you'll never find hers.
Bey and Blue served mommy and me realness at the 67th NBA All-Star Game on February 18 in L.A. while spending some quality time with mama Tina Knowles-Lawson and her husband, Richard Lawson. Judging by their playful SnapChat fun, where the two take on the latest fiery-headed filter, they took full advantage of their courtside chillin' moments. Still no leads as to what Queen Bey's SnapChat might be, though.
The BeyHive picked up their first scent in March 2017 when she was still with child(ren), gracing and slaying Instagram timelines with awe-worthy pregnancy shots and SnapChat-native flicks left and right. Since spring is right around the corner, marking the one-year anniversary of her SnapChat debut, the BeyHive should keep their fingers crossed in hopes that she'll be feeling a little more generous with the social handle this time around.
See another one of Beyoncé's SnapChat moments featuring young Blue in the post below.