Brandy Responds to Countess Vaughn's Open Letter
Could we see these two reuniting on screen?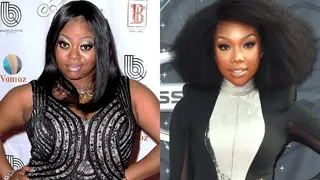 Brandy and Countess Vaughn, the formerly estranged co-stars of the late '90s sitcom Moesha, have apparently squashed their beef that lasted nearly two decades. As we all remember, Brandy and Vaughn played best friends Moesha and Kim, but while their on-screen connection carried the show, their off-screen relationship was tumultuous.  
In a famous Vibe article from 1998, Brandy expressed that the drama between them started when Vaughn made it known that she believed she was the reason the show was successful, not Brandy. "She's called me a b***h to my face," the singer told the magazine. She said, 'I'm the reason why the show is successful, b****h.'"  Yikes. With words like that, it's a surprise the two were willing to reconcile at all.
But time apparently healed those wounds, and it seems the former co-stars, now both grown women and mothers, have been able to forgive and forget. Vaughn offered the first olive branch in the form of a sincere apology for the negativity that had existed between them.  
"I'm proud of you for being you and working to rise to the best you, inside of you. You are an amazing being with amazing God-given capacity," she wrote in an open letter to Brandy on Instagram. "I apologize for anything negative I've ever done [or] said to you."
While nobody would have blamed Brandy for responding with a cold shoulder or a tight-lipped "thank you," she rose to the occasion. "I would love to start a new friendship with you with new heads on both of our shoulders," she wrote back. "It will also be great to work together again. With you, Moesha would not have lasted as long as it did." 
Do you feel the warmth? Maybe this means we'll see CV pop up on Brandy's new BET show Zoe Ever After. Guess we'll just have to watch and see.

Read Vaughn's full letter to Brandy, below.

BET.com is your No. 1 source for Black celebrity news, photos, exclusive videos and all the latest in the world of hip hop and R&B music.
(Photos from left: Maury Phillips/Getty Images, Frederick M. Brown/Getty Images for BET)