Black Unemployment Fell to 11.9 Percent in December
The Black unemployment rate for December was 11.9 percent and the overall unemployment rate was 6.7 percent.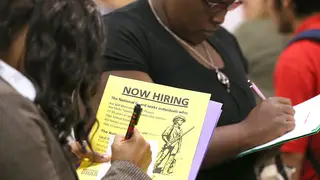 The first jobs report of the year came as the White House and congressional lawmakers were engaged in an intense debate over whether to restore unemployment benefits that expired on Dec. 28. The good news is that the unemployment rate for African-Americans fell once again from 12.5 percent in November to 11.9 percent in December. The national unemployment rate also dropped to 6.7 percent, the lowest since 2008.
The economy, however, added just 74,000 jobs last month, a figure much lower than the 238,000 ADP, in its monthly report on job trends, had predicted. On Thursday, the Labor Department reported that the number of Americans filing first-time claims for unemployment insurance in the week ending Jan, 4, was 330,000, a decrease of 15,000 from the previous week's revised figure of 345,000.
Congressional Black Caucus Chairwoman Marcia Fudge wishes she could be more optimistic about the jobless rate in African-American and other communities of color.
"I'm certainly hopeful that the December number will be good for African-Americans," Fudge told BET.com on the eve before the numbers were released. "In every single report, African-Americans have lagged behind everybody else. So I'm just hopeful that we don't fall any further behind than we already are. But I know that we need to do more, no matter what the numbers show, to target communities of color and high poverty to make sure we can get them back to work."
BET National News - Keep up to date with breaking news stories from around the nation, including headlines from the hip hop and entertainment world. Click here to subscribe to our newsletter. 
(Photo: Justin Sullivan/Getty Images)