10 Essentials Items You'll Need For The Isley Brothers And Earth, Wind, & Fire Verzuz Battle
BET.com helps you prepare for one of the most epic showdowns in music history.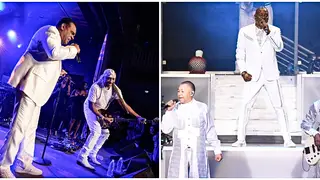 A Bottle of Henny

Out of all the cognac on the shelves, the adopted "yak" of choice in Black America is Hennessy. We may try brands from time to time, but for the most part, we deal with that "Hen rock." As EWF and the Isley Brothers perform some of their brown-liquor classics like "Can't Hide Love" and "Groove With You," make sure you have your glass ready, whether you like it neat or on the rocks.

A Nice Cigar

Along with a nice glass of Henney, a quality cigar is an excellent way to relax and watch two legendary bands perform their classics. What could be better than blasting "Footsteps In The Dark" or "Keep Your Head To Sky" with a stogie? Even if you don't light it, just walking around with it will send your cool points through the roof.

High-heels and Bell-Bottoms

For the ladies, nothing says 70s fashion quite like high-heels and bell-bottoms. It was the go-to outfit for all the foxy sisters. And for the fellas, rock that hippie, tight leg, glam rock look. While you get ready to dance to "Getaway," and "Living For The Love of You," bring out whatever it takes to complete your retro vibe.

A Dashiki

Since the 60s, dashikis have been a way for us to represent Black pride and our African heritage. No group rocked more flamboyant dashikis like Earth, Wind & Fire. As lovers of Egyptology and African culture, a dashiki is a must-have while listening to EWF's "September."

A Full-length Fur Coat

If it's authentic or faux, this is the Verzuz to throw on your full-length fur coat. Some of y'all have been waiting for the best time to flaunt your gear. Sunday is your day. While furs may not be Earth, Wind, Fire's bag (they were likely more into the shirtless fur vest look) it's right up The Isley Brothers' alley.

An Afro

No hairstyle makes the statement of Black power and pride quite like rocking an Afro. The 60s and 70s were the golden eras for Afros; to be considered hip, you had to grow one. It could be a natural or a wig. However, you need to make it happen; it's essential for this Verzuz.

Chocolate Covered Strawberries

Shades and a Cane

One of the best rebrands in music history was when Ron Isley gave the world his alter-ego, Mr. Bigs. Besides his flowing hair, Mr. Bigs always has on his dark shades and his cane. The cane is not for walking but to accentuate his style. To get that Mr. Bigs vibe just right, throw on your shades and grab your cane. Well, well, well (In our Mr. Big's voice).

Silk Sheets

If ever is the time to do it, this Verzuz is when you pull out those silk sheets. Just let the music get you in the mood to try out those silk sheets that we all have stashed for a special occasion. You can dust them off and luxuriate while listening to the Isley Brothers classic, "Between The Sheets."

A Nice Hat

 It could be a derby, beret, fedora, or applejack, but a nice lid will set your Verzuz outfit off right. It may be spring in some parts of the county, but don't let that stop you from wearing your best topper while you enjoy "Fight The Power'' or "Serpentine Fire."

The Verzuz battle between Earth, Wind & Fire, and The Isley Brothers is scheduled for 5 PM PT / 8 PM ET. Easter Sunday, April 4 on Instagram and the Triller app.